Welcome to The
Coromandel Peninsula, NZ

White sandy beaches.
Fishing
and surfing.
Enjoy life in a
beautiful
beach resort town!
The Coromandel Peninsula is New Zealand's favourite holiday destination. People from Auckland, Hamilton and other cities come here to relax on the white sandy beaches, enjoy fishing, surfing, other marine sports and life in the beach towns.
Framed by native Pohutukawa trees on the western side, beautiful white sandy beaches in the east and divided by ranges cloaked in native rainforest, the Coromandel's 400 kms of coastline offer the visitor a truly distinctive blend of experiences.
The most important attribute of The Coromandel is our people. Known as friendly, relaxed and welcoming. They look forward to meeting you and sharing their little paradise with you.
The weather in New Zealand is changeable, so please be prepared for all kinds of weather.  We recommend that you bring a raincoat with you, as well as warm clothes, swim wear and a hat.
Whitianga (Mercury Bay)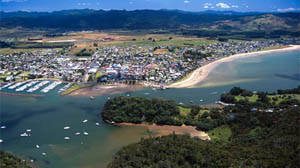 Mercury Bay, on the East Coast of the Coromandel Peninsula, offers a spectacular coast flanked by islands. The area has white sandy beaches, crystal clear streams and green mountains… a variety of dramatic landscapes to welcome you.
Whitianga is the main town of the Coromandel Area and is located on the eastern side of the Coromandel Peninsula. It is 208 kms from Auckland (2.5 – 3 hours driving time). It is a popular holiday town for many people from other cities around NZ and overseas. Whitianga has about 4,000 permanent residents and offers a full range of services and attractions for visitors. Whitianga has an excellent selection of fine restaurants, cafes and a wide variety of accommodation to cater for everyone. The relatively sheltered waters of the bay are great for all kinds of water sports. On land, you can enjoy bush walks, horse trekking, tours, adventures, shopping and restaurants; or check out the local artists on Mercury Bay's Craft Trail.
From Auckland: 2.5 – 3 hours drive
Surroundings: Ocean, beaches, mountains
Population: 4,000 (7,000+ in summer)
Town character: Small, laid-back, friendly
Whitianga Campus & Head Office
Postal Address:
PO Box 98, Whitianga 3542
Physical Address:
18 South Highway, Whitianga 3510
Phone:
+64 7 867 1178
Fax:
+64 7 867 1175
E-mail:
info@evakona.co.nz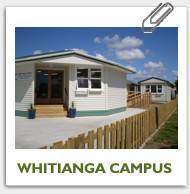 Thames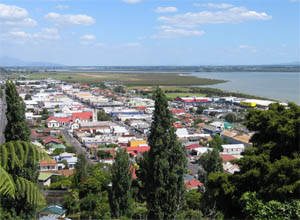 A mere 90 minute drive from Auckland, Thames is known as the 'Gateway to the Coromandel'. It is the main shopping location on the peninsula.
In the late 19th century, this town was one of New Zealand's largest – built on the pioneering industries of gold mining and kauri logging. At one stage, Thames was even the capital city of New Zealand. Today, its colourful history is still alive in the many pubs, buildings, museums and activities found in the area. It is a pleasant provincial town of 8,000 people.
From Auckland: 1.5 hours drive
Surroundings: Mountains, coastline, creeks
Population: 8,000
Town character: Historic, convenient, laid-back
Thames Campus
Postal Address:
PO Box 610, Thames 3540
Physical Address:
415 Mackay Street, Thames
Phone:
+64 7 867 9226
Fax:
+64 7 867 9227
E-mail:
info@evakona.co.nz