English and Activity Course

Learn and Discover English Through
The Great Outdoors and Beautiful Environment
Friday afternoon is activity time at Evakona!
Every Friday afternoon our students can get out of school and see some of the surrounding beauty. Each week is a different activity, challenging, creative, exciting and often breathtakingly beautiful. It is the time to start making your memories of New Zealand.
Full time or Part time General English courses, everyone can join our activity on Friday afternoon.
We offer many different outdoor and indoor activities such as surfing on our beautiful sandy beaches, horse riding through luscious green countryside, fishing in the ocean, kayaking on inland rivers, visiting farms where you can pet and feed the animals, walking through the bush, experiencing Māori culture and visit a marae. You can also participate in arts and crafts, make your own bone carving, relax in natural hot pools, go on scenic boat cruises, play tennis, try pottery and much more!
A great opportunity for the students to learn English through doing interesting and fun things.
We can offer extra activities during the week at the students' request so they can make the most of their stay and experience as much as possible. (A minimum of two students is required for those extra activities.)
Special Activity Courses
Evakona Education can provide special activity courses. If you are interested in learning English in the mornings and doing activities in the afternoon, please take a look at the activity courses below. The Coromandel Peninsula is the perfect place for you to satisfy your need for adventure!
English and Horse Riding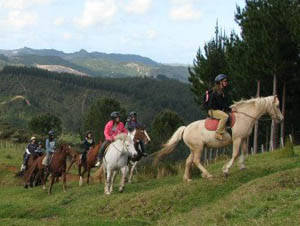 Study English in the morning, and ride a horse in the afternoon (2 afternoon rides per week). You will learn the basics of how to saddle-up, 'talk' to your horse, and go for a gentle ride. During the horse trek you will see green fields, trees, streams, waterfalls and see magnificent views of the countryside and ocean. You can also have close-up encounters with other farm animals. The treks go for 1.5 to 2 hours. Please contact us for more information.
Note: Horse riding courses are subject to the conditions of the operating horse riding ranch. Evakona recommends the operators but will not accept any liability related to horse riding courses.
English and Scuba Diving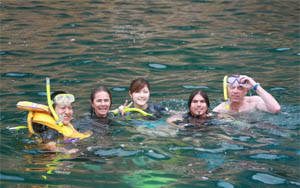 At Evakona you can study English and do a PADI Open Water Diving Licence course at the same time. In cooperation with Dive Zone Whitianga, Evakona students can study English and get a Scuba Diving Licence at a very competitive price.
Where in the world can you study English and do a Diving Licence course at the same time for such a low price? Contact us for more information about this fantastic course.
Note: Scuba diving courses are subject to the conditions of Dive Zone Whitianga. Evakona recommends courses with Dive Zone Whitianga but will not accept any liability related to scuba diving courses.
English and Golf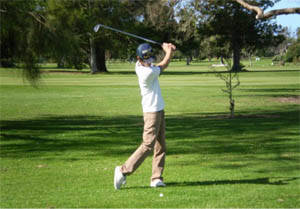 Combine your General / Intensive English course with an afternoon on a beautiful golf course.
Mercury Bay Golf Club welcomes Evakona language students. Golf lessons are also available.
English and Tramping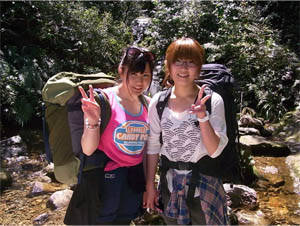 In this course you will experience the natural wonders of New Zealand. Our guide will take you to breathtaking walking tracks in the native bush, along creeks, waterfalls and stunning coastlines.
The course includes morning English lessons and two afternoons of tramping per week.
We have lots and lots of fun and beautiful walks! Enjoy delicious (and BIG!) New Zealand ice cream and drinks after the walks. Weekend tramping (full day or overnight) and weekend trips to other places in New Zealand are also available.
The Best Afternoon Tramping on The Coromandel Peninsula: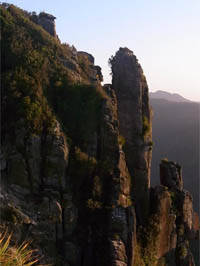 Cathedral Cove – Coastline, native bush, white sandy beaches, marine reserve

Castle Rock – Native bush, to the mountain peak, spectacular views of the Coromandel Peninsula

Waitaia Bush Walk – Native bush, river, goldmine

Simpsons Beach Farm – Farm land and animals, beautiful coastline

Broken Hills – Goldmine, native bush, creeks, tunnel, glow worms

Kauri Grove and Waiau Falls – Kauri trees, native bush, waterfalls
Course Duration:
Course Fees
English and Activity Course Fees

2016

Friday Afternoon Group Activity (2 – 2.5 hours)
NZ$70 (NZ$60 for 4 or more pre-booked)
Privately arranged activities (2 hours with Evakona aide)
NZ$150
English + Horse Riding (English lessons + 2 Horse riding + 1 other activity per week)
1 Week – NZ$630
2 Weeks – NZ$1260
English + Scuba Diving (English lessons + Open-water Diving License Course + 2 other Activities)
2 Weeks – NZ$1300
Please Note:
When studying English at Evakona Education, in addition to the above course fees, other fees may apply. Please refer to
Our Prices
page.