Family English Course
Your Family Can
Live
and Study
English in
New
Zealand Together
Those parents who wish to educate their children in New Zealand (but don't want to send them away) can now join them. Come to New Zealand, live and study English all together at Evakona. You can share this valuable experience and new way of life together as a family. Make your family relationships stronger and see your children develop as they learn English.
What is the Family Course?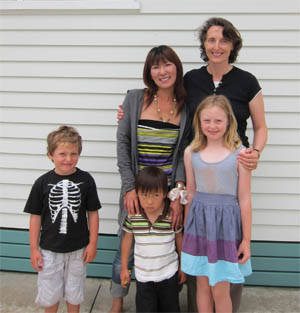 The mother, father, both parents or maybe even the grandparents can study English at Evakona, while the child(ren) join the local school and study with local kids (if they are five – thirteen years old).
For the younger children (under five years old), Evakona arranges excellent child care (e.g. Child Care Centre, Play Centre and babysitters).
This program is not only about studying English, but also an opportunity to observe different ways of raising and educating children, and to experience a different culture through homestay and other experiences.
Please note that this course is not just for mothers. In recent years, fathers, grandparents and entire families have enrolled in this extraordinary program. We welcome the whole family!
How does it work?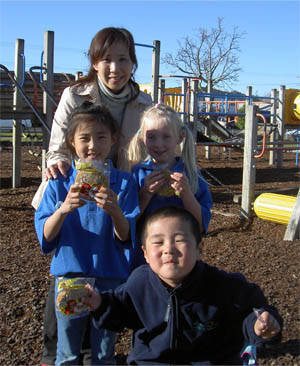 Parent(s):
Part time: Mon-Fri 9am-12pm or
Full time: Mon-Fri 9am-12pm and 3 Afternoons/week 1pm-3pm
Children (5 – 13 years old):
Attend NZ Primary School
Attendance: Mon-Fri 8:45am-3pm
Schools that Child(ren) can attend in this course:
Mercury Bay Area School (in Whitianga)
Thames South School (in Thames)
Children (under 5 years old):
Child Care Centre or Babysitter
Morning Care: Mon-Fri 8:30am-12:30pm or
Full time Care: Mon-Thu 8:30am-3:30pm, Fri 8:30am – 12:30pm
Where to stay?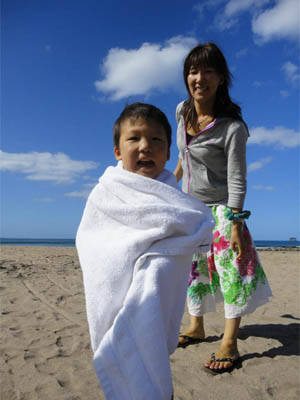 Homestay:
Parent(s) and child(ren) can stay together with a local host family. Experience the secret of raising good 'Kiwi Kids'! Children can learn how to communicate in English through playing with their host brothers and sisters. Three meals per day are included.
Motel Unit:
Rent a spacious motel unit and enjoy the freedom and independence you are used to at home. No meals are included, but these tidy units have a fully equipped kitchen.
House/Apartment:
It is even possible to rent a complete house with garden for your own use. Fully furnished and ready for you to move in. Have BBQs with the neighbours or let your kids play with the kids next door in their garden! Another great way to experience the real New Zealand lifestyle while keeping your independence.
Combination:
It is also very popular to stay with a host family for the first few weeks, and then move into your 'own' place.
Course Duration: