The Team @ Evakona Education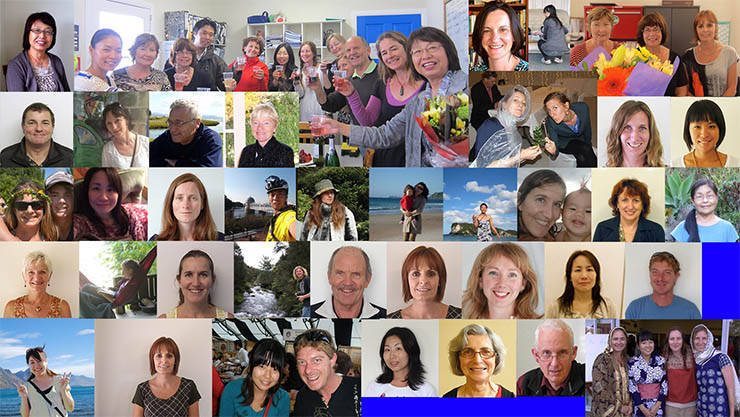 Meet our Highly
Qualified
and
Friendly Staff
Meet the team at Evakona. We are passionate about supporting you on your English language voyage and helping you realise your dream. Read and watch all about us below.


John Saunders
Deputy Principal / NZQA Liaison / Co-ordinator of High School Programme
I have taught for many years in the UK and NZ. Before coming to Evakona (seven years ago), I was Head of Computing and Business Studies at Trident High School in NZ. I have taught Mathematics, Physics, Science, Economics and Computing and still very much enjoy the challenge of teaching. My job in Evakona is to teach Mathematics and Physics to the High School Preparation group, to maintain a record of credits gained by the students, to liaise with NZQA and Ministry of Education. Whitianga is a wonderful place to be, great beaches and a great golf course!!

Rachael Mayne
Head Teacher
(Master of Arts – Applied Linguistics, CELTA, Dip Teaching, Bachelor of Arts – English Literature, Bus Dip)
Hello, I'm Rachael. I've taught English in Mexico, South Korea, Japan, the U.S and NZ. I like traveling and learning about cultures and languages. After finishing a Master's in Applied Linguistics in Boston I went to Mexico to study Spanish and I just kept on traveling and teaching. I love learning about other cultures and languages. I love living in Whitianga because I can do my hobbies here, which are stand-up paddle boarding and rock-climbing – it's so beautiful here. I am really looking forward to meeting you.

Ellen Jackson
Director of Studies
(Master of Architecture, TEFL cert)
After many years of travelling around the world I decided the best place to live is the Coromandel! The nature here is really beautiful and the lifestyle is very relaxed. I love it here! In the past, I worked and volunteered on a number of environmental and social projects involving natural construction, organic horticulture and sustainable technologies. I have also taught English at universities in Japan, with teenagers in Mexico, with children in South Korea and with Tibetan refugees in Nepal and India. I look forward to meeting you soon!

Lisl Wollheim Jones
Teacher / Homestay Co-ordinator / Activity Co-ordinator
(CELTA)
Hi! I have been teaching at Evakona since 2002. My job is exciting and varied; teaching English; arranging homestays; and co-ordinating school activities! I am a really active person, so it suits me well. I sailed to New Zealand with my husband and son, and I love discovering new places and cultures! I love exploring, playing tennis and squash, hiking, nature and spending time with my family. I hope you will love this beautiful environment as much as I do. I look forward to sharing everything that we have to offer with you.

Joerg Klenert
Teacher
(CELTA)
Originally from Germany, I travelled the world a lot until I found my favourite place to be – Whitianga! Besides English and German, I also speak Spanish, Italian, French and a little Japanese. I love languages. In 2004, I joined the team at Evakona and have been teaching English here ever since. Please come and find out why I love this place so much – I'm sure you will like it too!

Azumi Katayama
Office / Student Support / Marketing
(Bachelor of Arts)
I fell in love with this beautiful country, especially the Coromandel Peninsula, and I have been living in New Zealand since 2004. It's a great pleasure to meet people from many different countries here at Evakona, where my job is to support you so that you can get the most benefit from your time here in NZ. The language, the culture, the food, the people… everything is different here from your own country, so I am there to help you enjoy it all. Come and meet the Evakona team, and join us!

Kathy Parker
Administrator
I have just returned to New Zealand after a year working in London. I have lived in Whitianga for 27 years, have two grown up sons, and have spent 15 years working at a local doctor's surgery. I am enjoying working with all the lovely staff at Evakona and meeting all the students who study here.

Ako Carse
Teacher / Student Counsellor
(Bachelor of Design)
I'm a Japanese-Kiwi, and I came to New Zealand when I was 11 years old. My interests include reading, watching films, art and early childhood education. Having learnt English in New Zealand, I know how challenging it can be to study in another country, but you will gain so much more than just a second language! I hope I can support you on your exciting journey of learning and experiencing the New Zealand lifestyle.

Taddy Ito
Marketing
(Bachelor of Design)
Hi. I work in the marketing department of Evakona Education. I came to New Zealand when I was very young so I was educated from primary school to university in New Zealand. My interests are football (soccer), hiking, snowboarding, cycling, anything outdoors, movies, computers, designing, painting, drawing, and socializing. I always recommend that students join any activities with local people, especially outdoors.

Erica Sacault
Teacher
(Bachelor of Arts, Dip Teaching, TESOL cert.)
Hello, My name is Erica Sacault. I have lived in Japan for four years, and in Tahiti for 3 years. I have enjoyed learning both Japanese and French. I have worked in language schools for a lot of my adult life because I enjoy the contact with different nationalities. I have also taught at high schools in New Zealand. Whitianga is a beautiful village with many long white sandy beaches. This is a fabulous safe place to come and learn English.
Colin Verner
Teacher
(BFA, MA, TEFL cert.)
Colin completed his BFA with honors at Whitecliffe School of Art and Design in Auckland. Soon after he received a graduate assistantship to work and study at Montclair State University in the USA. This was the beginning of many years of travel and included four years based in South Korea teaching English. He has now settled in Kuaotunu with his family where, when he's not teaching English, he produces art and craft for sale from his studio.

Manami Ito
Teacher/ Student Counsellor
(Diploma of Early Childhood Education, Diploma of Child Care)
Hello, I'm Manami. I first came to New Zealand in 2012 to study Early Childhood Education and work as a volunteer kindergarten teacher. I have been a head teacher of a Kindergarten in Japan for 9 years. I moved to Whitianga in 2014 and I enjoy supporting students to adjust to their new life in New Zealand. I know how challenging it can be, so I can support you while you experience New Zealand life! I enjoy walking, cooking, reading and singing.

Petra Bestmann
Teacher
(PhD in Chemistry, Masters in Education, TESOL cert.)
I am an extremely curious person and believe that's what motivated me to become a scientist. Passionate about education, I've always enjoyed learning as well as passing on my knowledge as a teacher. I moved to New Zealand from Germany in 2000 and have been teaching Science, Mathematics and German at a local high school for the last 15 years. Like many Europeans, I speak multiple languages, so I understand first hand what's involved in learning a new one. I live on a very remote lifestyle block in the middle of the stunning New Zealand bush. My hobbies are furniture making, woodturning and creating perfumes and cosmetics.

Lindsay Robbie
Teacher
(Bachelor of Education (Teaching), Post Grad. Diploma in Literacy Education.)
My husband and I moved to Whitianga recently, from Auckland. We are really enjoying life in this vibrant little town. I have been a teacher for many years, and for most of the time I have worked with students who find literacy, (especially learning to read and write) difficult. This is my area of expertise, and I very much enjoy teaching, supporting and getting to know these students.
Kate Neilson
Teacher
(Bachelor of Fine Arts (Theatre), minor in English, TESOL Cert)
I first came to New Zealand from Canada 18 years ago, and have been teaching English on and off ever since.  I enjoy learning as well as teaching, and have studied French, German, Japanese, Spanish, and Italian – although I am fluent only in English!  I love language, and hope to make learning it fun and interesting.  I can't think of anywhere better to teach it than this beautiful corner of NZ.
Thames Campus

Sue Oxley
Administration / Homestay Co-Ordinator

Kanako Okitsu
Administration / Student Counsellor
I first came to NZ a long time ago to work as a volunteer kindergarten teacher. It was such a wonderful experience. I met Eriko while working as School Manager at Kansai International Academy. I was inspired by her to set up a course to bring young students to NZ from Japan. The Academy made several trips to NZ under my leadership. I am now proud to be the Evakona Student Counsellor at the Thames Campus supporting our international students. This position enables me to see first-hand how our students grow and develop both their ability in English and their outlook on life. You might see yourself growing and developing here, and it is my job to help you along the way.

Louise Dean
Teacher
(Bachelor of Education – Honours in Outdoor and Science Education)
I came to New Zealand fifteen years ago and have been an educator in a variety of settings since then including many years as a catch up teacher at Evakona. I enjoy helping the students get the most from their school subjects by supporting them with English in the context of those subjects, and helping with subject content and skills. I love to see the students grow in their time here. My interests are sustainable living, alternative building, conservation, reading and creativity.

Julianne Dobson
Teacher
(Dip Learning & Behaviour, Cert Adult Ed, TESOL)
I am trained in Education and Welfare. I have taught ESOL, Literacy & Numeracy in secondary schools, language institutes and community agencies. I love teaching and supporting international students of all ages. I like to provide enjoyable, stimulating lessons that are relevant to each learner's needs. I'm originally from the South Island, and moved to Thames in 2007 with my family. I enjoy skiing, walking, going to the beach, watching film festival movies, listening to music, reading and drinking good coffee!
Vanessa Tollemache
Teacher
(BA/LLB and CELTA)
Hello, my name's Vanessa and I've been teaching English to students for a few decades. In that time I've taught general English, business English, and also exam preparation courses. My students have ranged from teenagers to adults to retirees, and came from over twenty countries to study in beautiful New Zealand. I speak German, some Swiss-German, a smattering of French, and love motivating learners taking on the challenge of English. In my free time I enjoy walking, doing crosswords, reading and travelling to new places. Coromandel is a stunning environment to improve your language skills: hope to see you soon!