Accommodation

Evakona
Provides the
Best
Accommodation
to Suit Your Needs
At Evakona we want to ensure that our students are comfortable in their new surroundings. We have carefully assessed all of our accommodation options with their comfort and enjoyment in mind. This assesment is also in accordance with the provisions set forth in the Ministry of Education's Code of Practice.
Homestay
Homestay accommodation is highly recommended, especially when you first arrive in New Zealand. Evakona will make sure you are placed in the best homestay situation to suit your needs and requests. Our aim is to make you feel at home as soon as you arrive.
Homestay accommodation includes 3 meals a day, and most homestay families are typically located within walking or biking distance from the Evakona school campus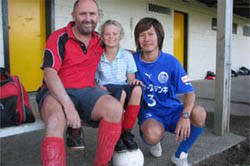 Warm, friendly and supportive families.
Someone to care for you at all times.
Breakfast, lunch and dinner are provided.
Use English with your homestay family.
Experience the typical home life of a New Zealand family.
Great value for money.
Homestay living is a fantastic experience, and an important part of the English learning process. Experience talking in English with your homestay family.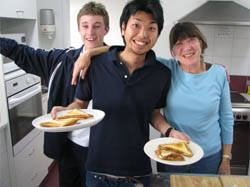 Sharing meals, weekends, days out and learning about family life the 'New Zealand way'. All the time improving your English. Our homestay families are carefully chosen, and students are monitored regularly to ensure their comfort and well-being.
House / Flat / Apartment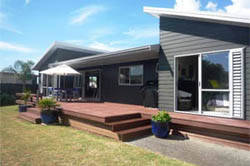 Whether by yourself, with friends, or with your family, we can help you find a comfortable place to live. It is possible to rent a complete house with a large backyard and garden, or a nice stylish apartment by the beach. We can arrange fully furnished accommodation that is ready for you to move in to. This is a great way to experience the real New Zealand lifestyle while keeping your independence.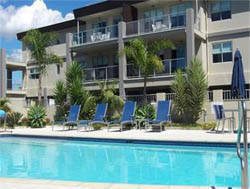 Marina Park Apartments
Some of the recommended apartment accommodation includes the Marina Park Apartments in Whitianga, and the Shortland Court Motel in Thames. Evakona Education has a special price arrangement with Marina Park Apartments and Shortland Court Motel for their apartments, therefore you will be able to receive a discounted price.
Please note that house rental is only available for students over 18 years.
Combination
Another popular option is to stay with a host family and then move into your own place when you feel ready.
Our recommendation is to begin your New Zealand adventure with a Homestay for the first 4 weeks. Then, once you have settled into your new study/work life you may be ready to find other accommodation. Evakona Education can help you with your choice.