Study English at
Evakona
Education.
A New Zealand
English Language
School
Use your English 24 hours a day
Go on to study at a New Zealand High School and/or University
Experience living in paradise surrounded by beautiful views and beaches
Have a wonderful Kiwi outdoor experience
No more than 10 students in any one class
Welcome to EVAKONA EDUCATION. Make friends from different countries, enjoy fresh green scenery, go for long walks on white sandy beaches and meet friendly people! Our campuses are located on the Coromandel Peninsula, one of the most beautiful tourism areas in New Zealand.
The 100% pure Coromandel experience provides you with "the space to find your real self". Realise your dream! EVAKONA can help you make your English dreams come true.
Why Study at Evakona?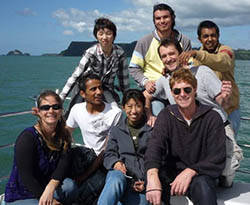 We keep our class sizes small (no more than 10 students in each class). Our teachers are friendly and highly qualified. They are focused on creating a lively, stimulating classroom atmosphere. Students take part in continual assessments to monitor their progress in English.
One-on-one monthly tutorials are held to ensure students are meeting their goals. Students also continue to improve their English conversation skills outside of school in our excellent homestays.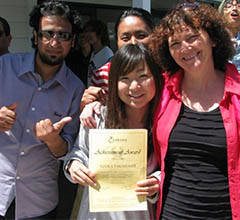 We have two school campuses: Whitianga and Thames. They are both on the Coromandel Peninsula, one of the most beautiful tourism areas in New Zealand.
Our focus on 'using' language in a practical way is what makes so many of our students excel. In fact, our students routinely score higher than the national averages in test scores. However, don't just rely on what we say, explore for yourself and contact us if you have any questions that haven't been answered on this website. Welcome to your English learning voyage!
Featured Programs & Courses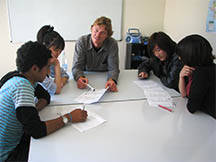 Intensive English Course
Learn English lessons for use in real life situations. Become effective in conversation, writing, reading, grammar, listening and pronunciation skills. No more than 10 students in one class.
Learn more >>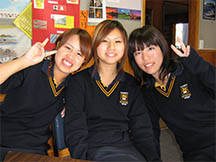 High School Preparation Course
Evakona will get you ready to join a New Zealand High School. Study for New Zealand High School credits on this course.
Learn more >>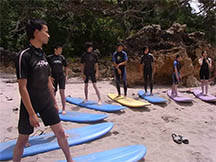 English Lessons and Activity Course
Combine a General English Course with fun and exciting activities every week. The perfect way to see and experience New Zealand.
Learn more >>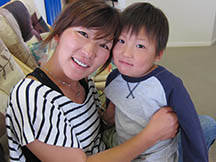 Family Study English Course
Parents study English at Evakona while their children go to the local Kindergarten, Playcentre or Junior School. This is the perfect opportunity for you and your children to experience New Zealand life as a family.
Learn more >>